We are cooking traditional food of every country we are traveling through. In Montenegro we are learning a recipe from Silvana Nedovic.

The husband of Silvana Nedovic never cooks. »Men in Montenegro are too proud to do so«, she says. But she doesn't cook very often either since Silvana Nedovic has three jobs (let alone her three children): She is a planer of the wastewater system of Budva, she has a guesthouse in Budva and she cares regularly for her little garden.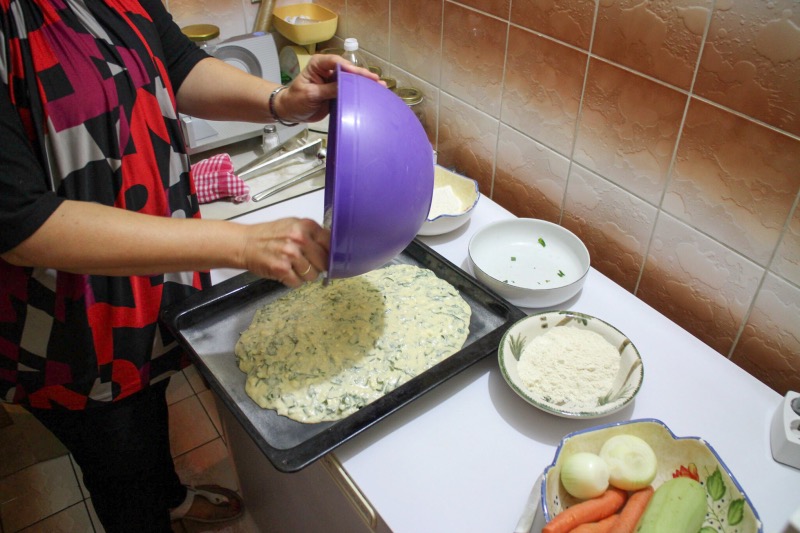 We slept in her guesthouse and she showed us how to prepare 'Proja'. That is a corn bread common in the Balcans. Silvana Nedovic learned the recipe from her mother and she learned it from her mother. That's why Silvana's wrists usually measure the ingridients. To make it easier for you to cook the recipe she estimated the amounts she uses. To prepare 'Proja' you need to take two main steps: Mix the dough and then bake it. In the dough are four eggs, about 400ml milk and another 200ml oil. She adds mangel cubes and crumbles very hefty montenegrian cheese in the liquid. Her mother in law made the cheese herself. It tastes a little bit like feta but is made with cow's milk and is far more hefty. To make a dough from the liquid she finally adds corn and wheat flour in equal shares until the consistency resembles waffle dough. Finally she adds baking powder. Silvana poures the dough onto a baking tray on which she sprayed oil and flour before so that the 'Proja' won't stick. She bakes it with 200 degrees Celsius in the preheated oven. After about half an hour the bread is ready. The top and the bottom turn into a thin orange-brownish crust and the middle is soft and yellow. The children of Silvana Nedovic like to eat 'Proja' for breakfast with some Yoghurt. We had it as an afternoon snack. It was good.